Welcome to the Vanquish Wiki!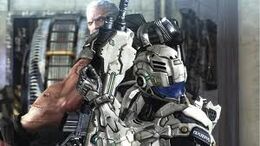 The wiki about Vanquish that anyone can edit.
This wiki is very small and would appreciate any contributions greatly.



About
Vanquish is a video game developed by Platinum Games and published by Sega for the PlayStation 3 and Xbox 360 and later ported to PC in 2017. It is Shinji Mikami's first game under the Platinum Games brand, having been in development since 2007 with Atsushi Inaba as producer. In January 2010, a full motion video trailer was released. Mikami has stated that the game was developed with the PlayStation 3 as its lead platform, commenting that it was a "great success."
The story is set in the near future. Russia and the United States are vying for ownership of the world's waning energy resources, and the US has constructed the SC-01 Providence, a space station, in order to harness energy from the sun. A Russian regime captures Providence and diverts its harvested solar energy into a blast wave that destroys San Francisco, aiming to force the US into a total and unconditional surrender. In response, the US tasks its armed forces with recapturing the space station before the Russians can annihilate their next target – New York. The player will take control of Sam Gideon, a government agent fitted out with a futuristic battlesuit.
News

Wagnike2
•
The details for the Vanquish limited edition have been revealed. Platinum Games' upcoming balls-mental shooter Vanquish has a special edition on the cards, which includes a little 7" figure of protagonist Sam Gideon.
Unfortunately for us, so far, the special edition has only been confirmed for the Uni…

JoePlay
•
According to Vanquish producer Atsushi Inaba, the game's demo will be released for both Xbox 360 and PS3 on September 2nd.
The demo will be titled "Vanquish Official Demo - Velocity Attack" and will allow players to work through a prologue sequence along with a boss fight against Argos. Players will…

Wagnike2
•
Vanquish has unveiled tha it will have a "Casual Auto" mode, which will make the game extremely easy. They will also have a 'God Hard' mode which will make the game extremely difficult. More information about the different game modes can be found at Joystiq.
See more >
More news...
Screenshots